GET YOUR BLOG SEEN VIA BLOGLOVIN' !
HELLO GUYS !
So it's no secret that Google Reader is going to be taken down, which diminishes the importance of GFC in the first place.
BLOGLOVIN seems to be great alternative..
which is why I've teamed up with Nina from Nina's Bargain Beauty and Cristina from Cristina's Beauty Box!!
Get your blog seen by many!
THIS IS WHAT YOU HAVE TO DO
1. Follow the hosts on bloglovin.
2. Share the blog hop button on your sidebar.
3. Hop around and visit at least 3 blogs. If you decide to follow a blog, please follow with bloglovin considering that GFC might go away. Leave a comment and let them know how you found thei blog.
4. Leave your link. You can link your bloglovin profile or a post on your blog that you enjoy, but in this case make sure you have your bloglovin visible on your blog so others can follow you.
5. Optional: Help this blog hop grow and share it on Twitter or Facebook.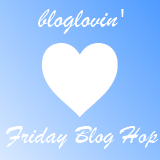 Take part to get more readership towards your blog
and till the next post..
take care dolls !
- Dyna
xx